About Us
More than 90 Years of Community Service
Mission, Vision and Values
Our Mission: to serve our community by providing patient-centered care in a fiscally responsible and learning-focused environment.
Our Vision: to be the premier academic health center
Our Values: Compassion/Accountability/Integrity/Respect


The UMC Difference
As an academic medical center with a rich history of providing life-saving treatment in Southern Nevada, UMC serves as the anchor hospital of the Las Vegas Medical District, offering Nevada's highest level of care to promote successful medical outcomes for patients.
Trust Nevada's Highest Level of Care
UMC provides patients with access to a wide range of exclusive and specialized services, including Nevada's ONLY Level I Trauma Center, ONLY Designated Pediatric Trauma Center, ONLY Burn Care Center and ONLY Center for Transplantation.
The UMC Trauma Center provides life-saving care to community members, visitors and residents of nearby states. Serving patients in a 10,000-square-mile area, the UMC Trauma Center cares for more than 12,000 patients each year.
The UMC Lions Burn Care Center recently became one of only a handful of hospitals in the nation to be verified as a Burn Center by the American Burn Association and the Committee on Trauma of the American College of Surgeons. This achievement recognizes the UMC Lions Burn Care Center's commitment to providing patients with the highest level of burn care.
Cutting-Edge Technology
From advanced robotic surgery to revolutionary wireless pacemakers, UMC remains committed to offering the latest breakthroughs in medical technology.
UMC recently became the first hospital in Nevada to offer a procedure to implant the world's smallest pacemaker, which is approximately the size of a large vitamin.
UMC also offers an innovative Robotic Surgery Program, utilizing advanced tools to provide the least invasive, most precise options available. UMC's da Vinci Xi Surgical System combines advanced robotic, computer and optical technologies to assist surgeons with a wide range of operations.
The Future of Medicine
Further establishing its position as a leading academic medical center, UMC formed a strategic partnership with the Kirk Kerkorian School of Medicine at UNLV, with the hospital serving as the anchor partner for the medical school to deliver the region's finest academic medicine.
Serving Southern Nevada Since 1931
UMC has served the health care needs of Southern Nevadans since 1931, when a dusty dirt road was the only way to reach the 20-bed hospital and its one doctor and nurse.
With the construction of the Boulder Dam (now known as the Hoover Dam) bringing an influx of residents and increased demand for hospital facilities, UMC began as the Clark County Indigent Hospital in 1931, serving patients in a 20-bed facility located on a dirt road west of the railroad tracks. Later, the road would be paved and named West Charleston Boulevard.
For the first two years of its existence, the new county hospital operated with one doctor and one nurse, both either on duty or on call 24 hours a day, seven days a week.
In 1940, the hospital's first board of trustees was elected, and its name was changed to Clark County General Hospital.
In the 1950s, the hospital was renamed Southern Nevada Memorial Hospital. With the name change, the hospital began to undertake a new mission: keeping up to date with the latest developments in medical technology and treatment while expanding its services to meet the needs of a rapidly growing and diverse community.
The Lions Clubs of Clark County funded a burn care unit at the hospital in 1968, bringing a higher level of care to Southern Nevada.
In February 1986, the hospital's name was changed again to University Medical Center of Southern Nevada to better reflect its role as a teaching institution and a medical center offering complete care.
In early 1992, UMC opened a new, freestanding Trauma and Pediatric Center, and in 1996, the hospital dedicated the state's first freestanding Pediatric Emergency Department. In 2009, UMC's pediatric services were combined to form UMC Children's Hospital.
Today, UMC is more than a hospital; it is a comprehensive academic medical center with a rich history of serving the community. UMC now offers the highest level of care in Nevada, providing a wide range of exclusive and specialized health care services to community members and visitors. UMC is home to Nevada's only Level I Trauma Center, only Designated Pediatric Trauma Center, only Verified Burn Center, and only Center for Transplantation. UMC Children's Hospital serves as the state's only hospital to be recognized and accepted as an associate member of the Children's Hospital Association.
Offering highly skilled physicians, nurses and staff members supported by the latest, cutting-edge technology, UMC continues to build upon its reputation for providing Nevada's highest level of care.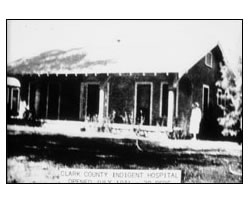 This translation is provided by Google Translate. University Medical Center of Southern Nevada makes no representations or warranties of any kind, whether express or implied, regarding the accuracy of the translation provided above.